***BREAKING NEWS***
Storm FC is the very first youth sports organization in the United States to be accepted as a United Nations Climate for Sports Action signatory.
The club was notified via the United Nations Headquarters in Bonn, Germany on April 4th, 2022.
What is UNFCCC?
Part of the club's vision and values include 'Investing in our Youth and Sustainable Values'. By pledging our organization to the tough and lofty requirements of the UNFCCC we are committing to help keep our planet safe for our youth players' futures.
Becoming a United Nations Climate for Action signatory will be a journey. Together with other signatories, we have pledged to become Net-Zero by 2040.
Our first commitment will be to reduce our carbon footprint by 50% by the end of 2030.
Actions for reducing emissions:
Avoid: Actions designed to eliminate GHG emissions occurring in the first place.
Reduce: Actions designed to lower the climate impact of your current activities. This may entail using resources in a more efficient way and thereby reducing the overall need, and associated costs, for such resources
Substitute/Replace: Actions designed to improve efficiency. This may be achieved by switching to more efficient and "cleaner" equipment, fuels, materials, or processes.
Compensate: Actions designed to compensate for some or all of your remaining, unavoidable impacts, typically by investing in emission reductions in other projects through UNFCCC recognized mechanisms.
Report: Provide a credible account of your climate footprint and the climate actions you have undertaken in order to share knowledge and lessons learned.
We will be taking immediate action with items that will significantly reduce our footprint.
Storm FC's journey starts immediately.
Over the next few weeks, we will be releasing more information on items that we will either: Replace, Remove, Recycle, Reduce, and/or Reuse.
The foundation of our program is our new uniforms. The uniforms are being made in the USA, which not only reduces our shipping footprint but also solves our issues with supply chain availability. All of the new uniform fabrics are constructed from 100% traceable recycled materials from land and ocean refuse.
Single plastic bottles are now banned from our facility. Each player will be provided a new recycled water jug for use on practice fields.
Trash cans at the practice facility will be removed and replaced with community recycling units for fabrics, glass, paper, and plastics.
More efficient bulbs will replace our current bulbs in our lighting system at the practice fields.
Natural organic pre-emergent and weed control will replace current chemicals used at the practice fields.
Equipment and jerseys will be donated to local community organizations for continued sustained use and to minimize landfill refuse.
Finally, we encourage rideshare for games and training to reduce emissions.
The Plan - UNFCCC:
Pledge

. Commitment by the senior management and the board of directors ensures that resources are put in place to implement climate action strategies and programs.
Plan

. Signatories must have an emissions inventory 6 months after signing the framework. Submit a plan explaining actions that will be undertaken towards achieving particular 2030 targets within 12 months.
Proceed

with action - it is important to begin immediately with low-hanging fruits such as energy efficiency, shifting to renewable energy, and looking closely at building space, transportation, and business travel emissions, and so forth. At the same time, signatories should start to collaborate with their suppliers and, where possible, prioritize goods and services from companies that have made such commitments. Finally, in line with S4CA principles education and communication on climate towards our fans, athletes and communities will help influence sustainable behavior.
Report

. Sports for Climate Action Signatories are expected to report every year as outlined in the section above.
There are 5 principles that we will abide by:
Principle

1:

Und

ertake

systematic

efforts

to

promote

greater

environmental

respons

ibility;

Principle 2:

R

educe overall

climate

impact

;

Principle

3

:

Educate

for climate action

;

Principle

4

:

Promote

sustainable

and responsible

consumption

;

Principle 5: Advocate for climate action through communication

.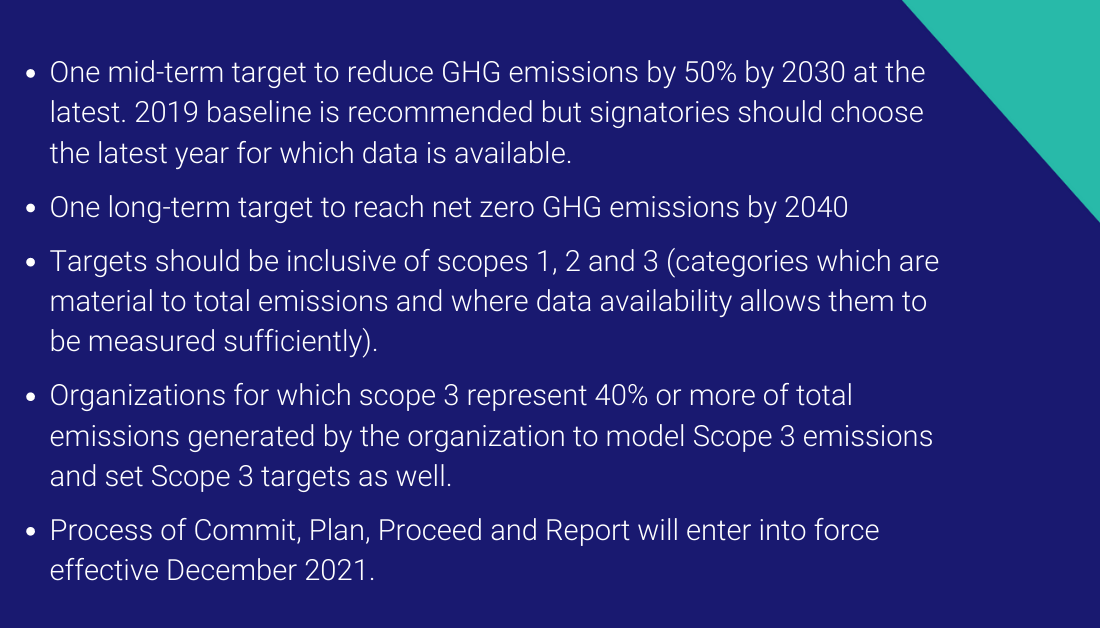 Letter of acceptance from the UNFCCC:
Dear Mr. Penna,
It is with great pleasure that we officially wish to welcome Kernow Storm Futbol Club to UN Sports for Climate Action.
Thank you very much for your bold leadership and commitment to contributing to global climate action. We look forward to working with you as you increase your ambition for climate and inspire your fans, communities, and others to address the most urgent issue of our time – climate change. Below you will find detailed information on the next steps to take your involvement forward.
Announcement
As an organization committed to climate action, you have now submitted your intent to be part of a solution. Our sincere congratulations. Lots of hard work lies ahead but also lots of rewards that can come with it. If you wish to announce that you have joined Sports for Climate Action you are welcome to do so and if you like you can use any of the materials available in our sports trello board. We will also include you on our website as a signatory shortly. It would be great if your announcement, if possible, is accompanied with some concrete examples of how are you planning to implement this commitment. We have seen that this is always well received by the public.
As a Sport for Climate Action signatory you are also joining Race to Zero, as a global campaign to rally leadership and support from businesses, cities, regions, and investors for a healthy, resilient, zero-carbon recovery that prevents future threats, creates decent jobs, and unlocks inclusive, sustainable growth.